Huuuge Pass is a time-limited event in which you get a chance to complete several tasks that are called challenges. These challenges contain various requirements and conditions. By completing challenges you may receive a reward which may vary depending on the type of Huuuge Pass you have.
Premium Pass
All players have access and can progress through their challenges using the Basic Pass. When a Premium Pass is purchased, players can get a standard reward based on the Basic Pass and bigger rewards based on the Premium Pass for the same challenges completed. Please keep in mind that you can buy a Premium Pass at any moment during Huuuge Pass.
Don't worry, you can also buy a Premium Pass even after you have completed your challenges. All of the Premium Pass rewards will be awarded from previously challenges completed.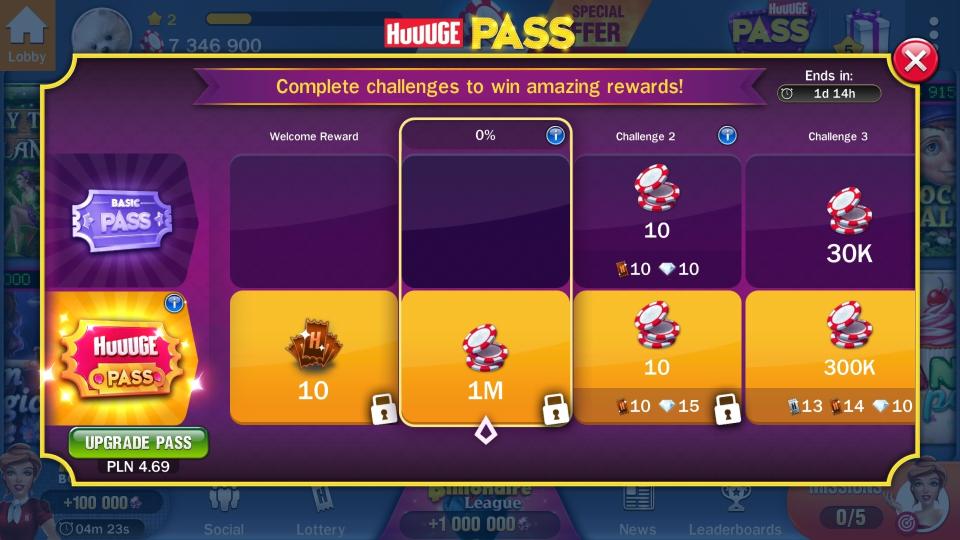 Challenge Progress
You can track your progress by visiting Huuuge Pass, accessed from the Main Lobby. There, you will find your challenges and your current progress for each of them.
To know more details on how to complete any challenge, press the Info button. Current challenge requirements are displayed, as well as the required slot for that challenge. You can directly access the required slot by pressing the Play button.

During gameplay, you can track the completion % rate of your challenge. Once the challenge is complete, you will receive your rewards and you can then proceed to the next challenge. Remember, completing more challenges means more Huuuge rewards!